Stephen M. Gorny – Founding member of Gorny Dandurand
Email: steve@gornylawfirm.com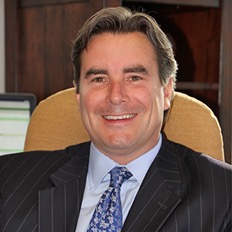 Steve Gorny is the founding member of Gorny Dandurand (formerly The Gorny Law Firm.) He graduated magna cum laude from Washburn University School of Law in 1994, where he served Assistant Comments Editor for the Washburn Law Journal. Prior to attending law school, he earned bachelor's degrees in political science and sociology from Miami University in Oxford, Ohio.
In 2006, Steve and a former partner obtained a verdict of $46,000,000, the seventh largest trial verdict in the United States, and the largest non-punitive wrongful death verdict in Missouri history. In addition, following two years of dedicated representation, Steve led the trial team that obtained a verdict of $6,000,000 to help a church secretary and her family after the negligence of others deprived her of the use of her legs. Steve helped a young girl who contracted E-coli at a petting zoo and settled her case for $6,000,000. Despite the constraints of COVID, Steve resolved a case for $6,000,000 for a young boy who was injured during labor and delivery. In another case, after a week long trial, a jury found in favor of Steve's client and awarded the largest medical negligence verdict in Cole County, Missouri. He obtained one of the only Plaintiff's verdicts ever handed down in Ford County, Kansas. Steve is a member of the Multi-Million-Dollar Advocates Forum, which is limited to attorneys who have obtained multi-million dollar verdicts and settlements. Less than one percent of US lawyers are members.
In the Community
Steve is very active in local charities and his community. For more than a decade, he was an Executive Committee member and for two years was the President of the Mid-America Chapter of The Leukemia and Lymphoma Society. The LLS named him its 2003 Robert McKinney Volunteer of the Year, its 2007 Team-in-Training Volunteer of the Year, and in 2008, bestowed upon him the prestigious Amy Fithian Award for his many years of dedication and service to The Society. He served on the board of Friends of Johnson County Developmental Supports, an agency that helps people with intellectual and developmental disabilities find housing, career, and personal development opportunities.
A life-long runner, Steve has run numerous marathons and ultra-marathons in support of charitable causes. Throughout 2006, he ran one 26.2-mile marathon each month to raise more than $35,000 for The Leukemia and Lymphoma Society. In 2009, he completed a 100-mile ultra-marathon to benefit The LLS in honor of a family friend battling the disease. In 2012, he ran across the State of Kansas, a total of 234.7 miles, to raise more than $85,000 for the Michael J. Fox Foundation for Parkinson's Research in honor of his father who suffered from the disease.
In the Legal Community
Steve is well regarded within the legal community. He has been invited to speak locally and nationally on a variety of topics, with a particular focus on collisions involving trucks, other commercial vehicles, and strategies in medical negligence cases. Steve has published numerous articles, book chapters and papers designed to assist other lawyers with their practices.
Steve is a member of the Missouri Bar, the Kansas Bar Association, the Kansas City Metropolitan Bar Association, the American Association of Justice, Trial Lawyers for Public Justice, The Academy of Truck Accident Attorneys, and the Association of Plaintiffs Interstate Trucking Lawyers of America. For ten years, he served on the Executive Committee of the Missouri Association of Trial Attorneys and was its President in 2018-2019. Steve also served MATA's community outreach branch as the chairman of Missouri Trial Lawyers Care and was given a Volunteer Service Award in 2009 and in 2018 for his service to the community. Steve has been selected to the prestigious Best Lawyers in America every year since 2009. He has been selected as a Missouri and Kansas Super Lawyer every year since 2006. He has been named to Kansas City's Best of the Bar, and is listed as a Top 100 Attorney in Missouri and Kansas.
Steve is admitted to practice before the Missouri Supreme Court, The Missouri Court of Appeals, the Kansas Supreme Court, the Kansas Court of Appeals, the United States District Court for the Western District of Missouri, the United States District Court for the District of Kansas, the United States District Court for the District of Nebraska, and the United States Court of Appeals for the Tenth Circuit.
Why I Became a Trial Lawyer
When I was sixteen years old, my assistant principal came to my science class and asked me to follow him to the school office. When there, I encountered my mom and instantly knew something was wrong (no I was not in trouble – I was a model student!). They sat me down and my mom told me that something had gone wrong during my grandfather's routine surgery to remove a colon polyp. We left school and went home and packed our bags. We traveled to visit my grandfather in the hospital where he remained in a coma. He existed in that coma for more than two months when doctors confirmed for my grandmother and parents that my grandfather Adam would never again have normal brain function. They made the painful decision to let him go. About three months after my grandfather died, my grandmother was sitting on her front porch when a young, professional looking man approached the house. He asked if she was Adam's wife. She confirmed that she was but that her husband was not home because he had passed away. The man informed her that he understood that because he was the anesthesiologist during my grandfather's surgery. He confessed to my grandmother that he had made a serious error during the operation and that his mistake had put my grandfather in the coma from which he never recovered.
When I was twenty years old and an avid runner, I was taking an afternoon jog through my hometown. I had a green light to cross an intersection and proceeded into the street. The next thing I knew, I was on the hood of a truck, then flung backwards into the street. Apparently, its driver was making a right turn on red and looked to his left to see if any traffic was coming. Of course, he did not bother to look to his right to see if any pedestrian traffic was coming. I ended up in the hospital with a severely hyperextended back and cuts and scrapes all over my body and severe bruising of my sternum and ribs.
These two events ‒ seeing how the carelessness of others robbed a family of a loved one and caused significant physical and emotional pain – solidified my desire to be a trial lawyer and counselor of law. Those of us at my firm recognize that when you call, you are not doing so to share a happy story. Instead, somebody's actions have caused pain and heartache to you and your loved ones and you are looking for someone to guide you through those circumstances and bring about some semblance of justice. We take great pride in answering those calls and helping to bring about a fair, compassionate solution to the problems you are facing.
Speeches and Presentations
2019 Tort Reform Legislation; MATA & MODL Perspectives, MATA

Changing the Language, ATAA

Choosing the Right Expert, UMKC

Civil Litigation in the Era of COVID-19, MATA

Closing Argument in Trucking Litigation, MATA

Commercial Vehicle Turning Collisions, ATAA

Conspicuity in Trucking Cases, Academy of Truck Accident Attorneys

Conspicuity in Trucking Cases, ATAA

Cost Effective Marketing for Small Firms, TAOS Group Business Retreat

Deposing the Records Custodian, AAJ

Discovery Practice, Johnson County Bar Association

Ethical Pitfalls: Learning From Mistakes, KCMBA

Expert Approaches in Tobacco Litigation, American Association for Justice

Fan Appreciation: Referring Lawyers, TAOS Group Business Retreat

Financial Decisions in Small Practice, TAOS Group Business Retreat

Finding False Medical Chart Entries, Rockhurst University Nursing School

Hours of Service: Commercial Drivers, AAJ Trucking Litigation Group

How Jurors Deliberate, Kansas City Metropolitan Bar Association

How Truck Collisions Differ from Vehicle Crashes, Johnson County Bar Association

Is the Roadway to Blame?

Is the Roadway to Blame?, Auto Crash Litigation

Knowing Your Adversary: What the Defense is Doing Before and After the Truck Crash, AAJ Trucking Litigation Group

Lessons Learned from Starting a New Firm, KCMBA

Leukemia & Lymphoma Society National Convention Address

Make their Safety Director Your Best Witness, AAJ Trucking Litigation Group

Managing the Stress of Running a Small Firm, TAOS Group Business Retreat

Mock Closing Argument, Missouri Bar Association

More than a Punchline: A Lawyer's Worth, Kansas City Business Association

New Senate & Congress in Place – Time to Take Action, MATA

Pain & Suffering Testimony from Family Members, Melvin Belli Society

Potential Trial Problems & Issues – Complex Litigation (Advanced Trial Skills), Missouri Office of State Courts

Proper Lane Change: Establishing Liability in Lane Change Collisions, ATAA

Proper Lane Change: Establishing Liability in Lane Change Collisions, ATAA

Punitive Damages for Not Retaining Documents, ATAA

Punitive Damages Permitted Based Upon Failure to Maintain Documents Required by FMCSR, Article for AAJ TLG Journal of Trucking Litigation

Recounting Defense Detours, AAJ

Referral & Associated Counsel Fees, MATA & Johnson County Bar Association

Rerouting Defense Detours, AAJ Trucking Litigation Group

Selecting and Utilizing Trucking Experts, AAJ Trucking Litigation Group

Selecting and Utilizing Trucking Experts, ATAA

Technology in Trucking Litigation, AAJ Trucking Litigation Group 

Telematics & ECM Data, ATAA

The Art of the Decline Letter, TAOS Group Business Retreat

The Ethical Rules of Referral Fees, KCMBA

The Search for Insurance, MATA

Think Before You Speak, Arkansas Trial Lawyers

Virtual Mediation During a Pandemic, MATA

Voir Dire Carried Throughout the Case, Michigan Attorneys for Justice

What Judges Expect from Lawyers, Johnson County Bar Association

What Lawyers Want From Judges, Missouri Judicial Conference

What the Defense is Up To, Missouri Bar Association

What You Say Can be Used Against You: Inconsistent Statements, Missouri Association of Trial Attorneys

When the Chips are Down: Practicing in a Depressed Economy, MATA

Words Matter, ATAA